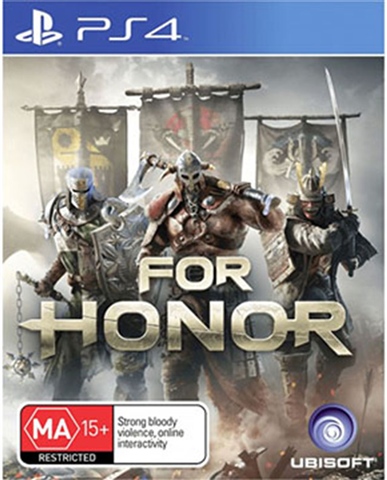 WeSell for
$28.00
WeBuy for cash

$12.00

WeBuy for voucher

$16.00

In stock online
For Honor (No DLC)
Live by the sword
Witness the bloody brutality of the battlefield as history's most iconic warriors come face to face. Choose between the agile Chosen, the brutal Warborn or the brave knights of The Legions and fight for land and glory.
Combine cunning, strategy and team play with brutal hand-to-hand melee combat to bring your enemies to their knees. The "Art of Battle", For Honor's innovative control system lets you wield the weight of your weapon and puts you in total control of every blow.
Customize your characters to create your own warrior image. Weapons and armour are fully customizable with almost limitless combinations.
The Art of Battle
Master a unique combat system designed to put you in full control of every, swing, block, jab and parry. For Honor's 'Art of Battle' system not only allows you to deal damage and dodge incoming blows, it also weights each individual action based on your footing, determining your ability to counter incoming attacks, exploit openings or sidestep an incoming blow.
Every face-off will be a test not just of raw strength, but of skill, attention and timing, making every move decisive.
---
For Honor (No DLC)
is rated out of
5
by
1
.
Rated

4

out of

5
by
Cormac48
from
For Honor: PS4
I bought For Honor recently and was very impressed. MULTIPLAYER: First off you can choose a faction of Viking, Knight or Samurai, after choosing your faction you can then play multiplayer games with the usual team deathmatch etc, each game you win is a win for your faction, however, this does not mean you can only play as Knight if you chose the Knight faction or Viking if you chose the Viking faction. I really enjoy the multiplayer but I was a bit disappointed by the servers, I wasn't expecting much since Ubisoft aren't very good with servers but I was quite surprised in the first day how slow they were, they eventually improved (possibly a patch) but if you do have bad internet you might want to wait a bit. SINGLEPLAYER: I really enjoyed the singleplayer campaign and while the story isn't incredibly interesting and can get rather boring the battles are great! You play as each faction doing six missions before switching to the next. COMBAT: The best feature of For Honor, in my opinion is the combat, it uses a great blocking and striking system with heavy and strong attacks, it is great in multiplayer as you have to really plan your attacks well. PROS: Combat, Multiplayer, Customisation, Weapons, Classes, Gamemodes. CONS: Weak Story, Unstable Servers. OVERALL RATING: 8 Out of 10! While this game has a few cons if you like thirdperson multiplayer I would definitely recommend this to you!
Date published: 2017-03-27